8th AADay -Sponsorship Package
About Asian American Day
The Asian American Day (AADay) was initiated by the Asian American Association of
Boston in 2011. The Asian American Day was approved by both the city of Boston and the state of Massachusetts in September 2016 and is celebrated on the second Saturday of September every year.Today, AADay has become a celebration of Asian American cultures and traditions and serves as a
great platform for exchanging of information between Asian American and regional ethnic groups.
This year, we are greeting the 8th Asian American Festival and the 3rd year of Asian American Day. Ethnic cuisines, music and dance, art exhibitions, the business showcase will be combined together for this wonderful gathering. We hope to share this great opportunity with more people and sincerely invite you to join us in celebrating this tremendous event.
Highlights
The 8th Asian American Festival will be themed as [∞ Boundlessness], symbolizing endless possibilities and limitless boundaries. This year, we will strive to integrate diverse cultural dynamism, break the boundaries between races and culture, and bring people closer to each other. While inheriting transition, we embrace changes and innovations.
The 8th Asian American Festival will run through August 2018 to September 2018 and contain three sections:
1. Cocktail Reception/Press Conference August 24th, 2018 2:00 pm - 5:00 pm
AAAB will host a private cocktail party on Odyssey Cruise to provide a precious networking opportunity for foreign diplomats, ambassadors, media partners, distinguished Asian representatives, organizing committees of Asian American Association, cooperative merchants, and volunteer representatives.
2. Asian American Day Gala September 9th, 2018 10:00 am – 4:00 pm
We will hold an all-day celebration event in Boston Common to promote effective exchanges between local residents, organizations, and businesses. We are expecting over 50,000 visitors and participants by offering elements including continuous performances, food, music, cultural exhibition, business showcase, innovations, and interactions.
3. Asian American Cultural Concert September 23nd, 2018 3:00 pm – 5:00 pm
A high-quality art and cultural concert will be held in Lexington Battin Hall. Audiences will enjoy ethnic culture, music, dance, and innovative performances from not only Asian countries but around the globe.
Opportunity Highlights
This year, we will inject more youthful, innovative, multi-cultural activities and performances to showcase the culture, education, and business of the ethnic communities in Boston.
∞We make every endeavor to create a friendly atmosphere and inspire conversations and interactions among diverse types of organizations in the Greater Boston area. On September 9th,2018, we would sincerely invite elite partners from various industries to participate in the grand
event and it is expected that there will be more than 100 booths on the site.
∞It is expected that over 50,000 residents, international students, and professionals in the Greater Boston area will participate in the AADay Gala. The creation of multiple attractions and elements will extend visitors' stay and interaction time, as well as greatly enhance their experience.
∞Event partners will have the opportunity to gain an elevated level of exposure in major channels, enhance their brand image and expand their visibility. The 8th Asian American Festival will be utilizing multiple media platforms to seek all-around publicity, which includes the local traditional media, online big V, event promotion, etc.
∞AADay Coupon Book will be designed and distributed both online and on-site. Business partners are able to customize their service specialty, contact information, and promotion details. With approximately 800-1000 volumes distributed on-site, event participants can be transformed into valuable customers given a better understanding of each merchant's featured services.
∞Other multi-partnerships chances include cocktail party invitations, on-site advertising on-demand, central stage-front advertising, booth location selection, VIP tickets for performances, customized promotional ads, etc. All these approaches can effectively increase the brand exposure and image
recognition of our partners.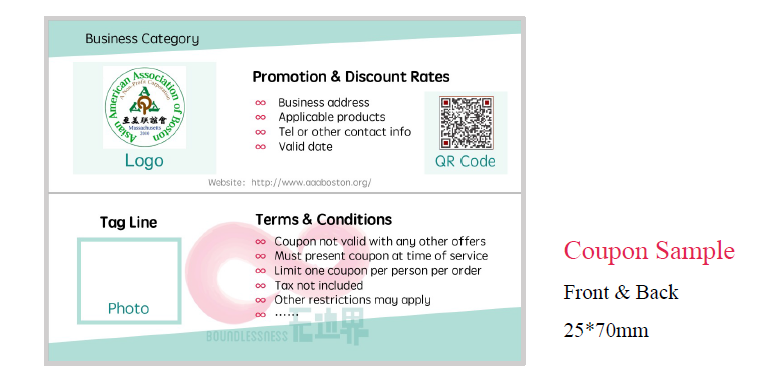 Sponsorship Packages
In the 8th Asian American Festival, we launched more effective cooperation opportunities to meet the needs of diverse organizations and business partners. We aim to enable every participant and collaborator to benefit from our partnership to increase your visibility and image, and ultimately
contribute to the multicultural community of Boston.
The 8th Asian American Festival is to be celebrated soon, we sincerely look forward to your participation and support.

Please check the file below for the specific sponsorship programs :